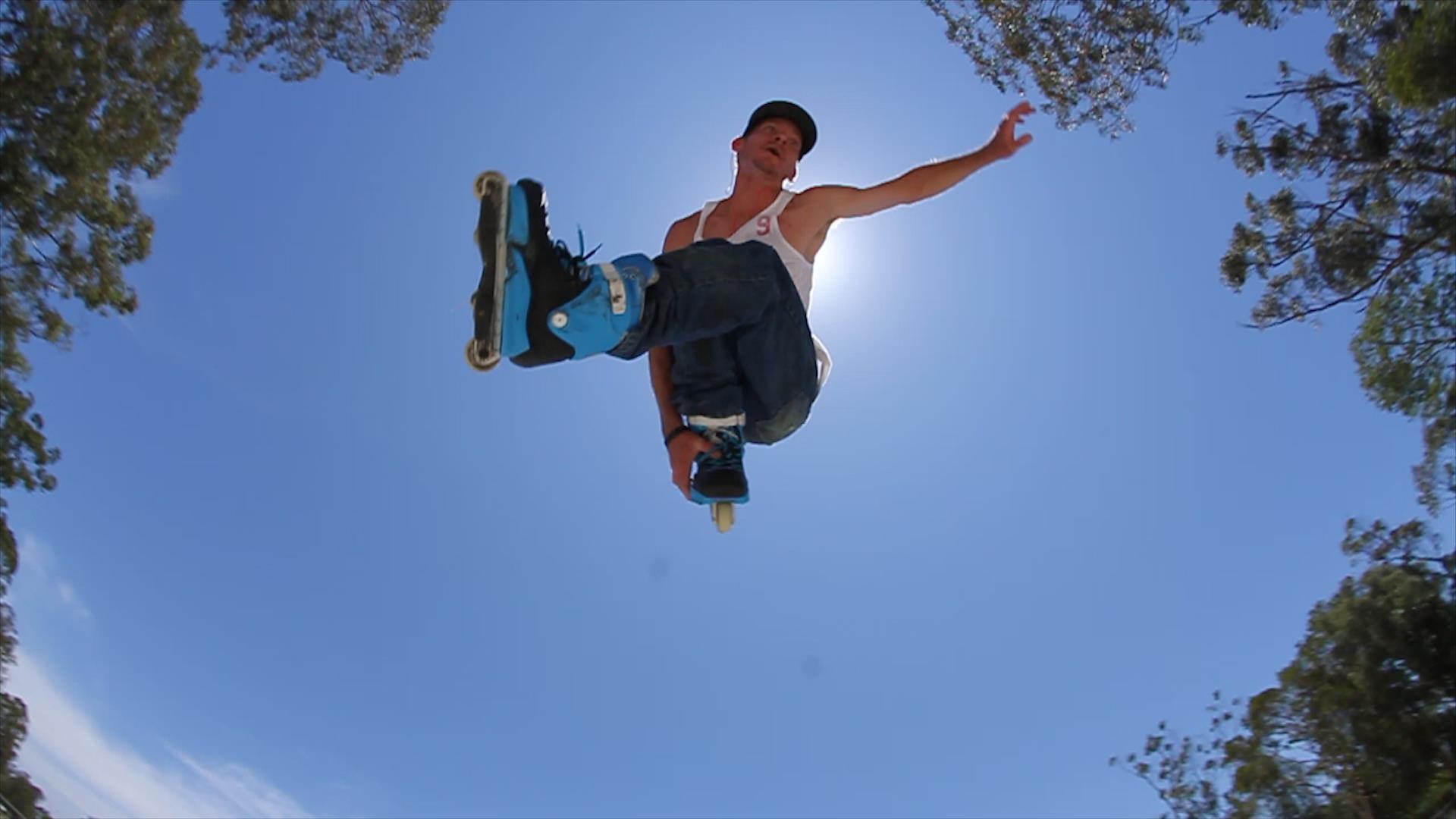 [vc_row][vc_column width="1/1″][mk_image image_width="800″ image_height="1000″ crop="false" lightbox="false" frame_style="simple" target="_self" caption_location="inside-image" align="left" margin_bottom="24″ src="http://www.rollerblading.com.au/wp-content/uploads/2015/08/nstn-49.jpg"][vc_column_text disable_pattern="true" align="left" margin_bottom="0″ title="Levi Hicks is one of Queensland's longest-standing and most talented rollerbladers."]Based in Caboolture on the outskirts of Brisbane, Levi has been skating since the tender age of five. While he's had a few breaks here and there, he is still skating hard and fast well into his 30s and shows no signs of slowing down anytime soon. Rollerblading.com.au caught up with Levi recently to find out more about this legend of the Brissie rolling scene.
"I remember getting my first set of blades off of my uncle at 5 years old. They were fluoro yellow with black laces," he says. "I skated agressively as a teen in highschool from about 1997. I stopped skating in 2004 when I had my first child and did not take it back up until 2009. Since 2009, I have been skating with mates such as Peter Ball, Gerad Ahearns and the VC Crew, Dale Travers, Nat Rawlings, Lance Newell and OG Brisbane skaters. I don't have any sponsors, but I get some support from Gerard at VC Clothing."[/vc_column_text][vc_video link="https://www.youtube.com/watch?v=D28YMJd9cc4″][vc_column_text disable_pattern="true" align="left" margin_bottom="0″]Well-known for his trademark steezed out sweatstances, high-speed backside shifties and big airs and spins, Levi has enjoyed success in a series of competitions over the years, including Best Trick at Right 2 Roll 2013, 1st at the Deagon Flow Comp in 2011 and 3rd in the OG section of the Queensland Titles in 2015.
When Levi isn't down his local park, riding motorcycles or working on cars, Levi is doing the "whole dad/kids/school thing".
"I was a full-time gyprock plaster board fixer for over 15 years," he says. "I stopped full-time work for about 2 years now and I'm looking after my children while my partner furthers her education and career. I have a big combined family with 7 children and find it hard to skate as much as I used to, but when I do, I shred to my fullest potential … hard and fast.
"I always try and find time to have a sesh at my local skate park in Morayfield, which has always been my home turf. I also like to hit up RampAttak on a Wednesday night to catch up with the boys and have a skate. I would like to get out and skate more and film a proper section, but really finding it hard … it's a work in progress."[/vc_column_text][vc_video link="https://www.youtube.com/watch?v=EOBHBYzt8ug"][mk_fancy_title tag_name="h2″ style="true" color="#393836″ size="14″ font_weight="bold" letter_spacing="0″ margin_top="0″ margin_bottom="12″ font_family="none" align="left"]LATEST NEWS[/mk_fancy_title][mk_blog_carousel post_type="post" view_all="*" count="10″ enable_excerpt="false" offset="0″ order="DESC" orderby="date" posts="8364,8916,8596,8562,8421,8540,9108″][/vc_column][/vc_row]