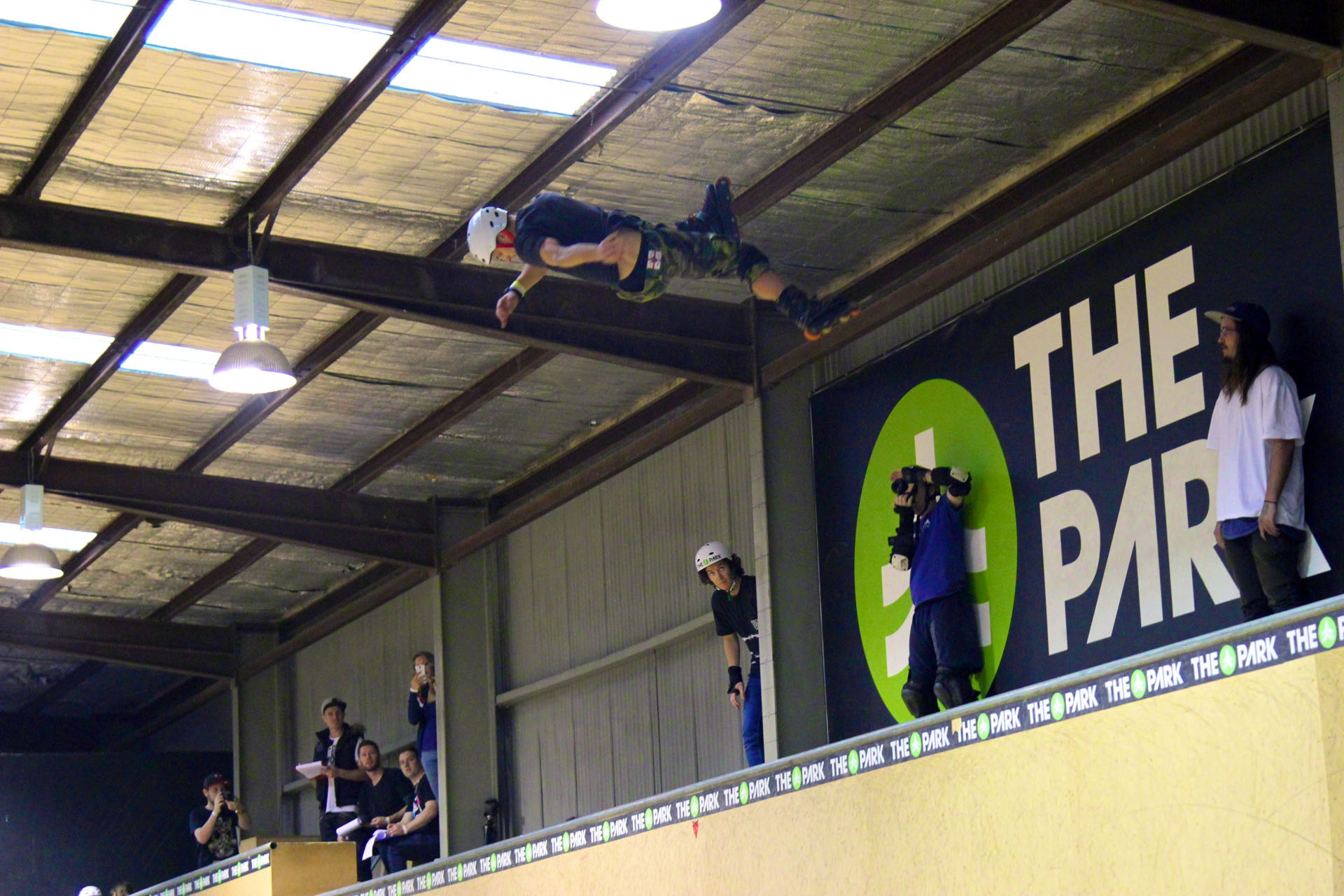 [vc_row][vc_column width="1/1″][mk_image image_width="800″ image_height="400″ crop="true" lightbox="false" frame_style="simple" target="_self" caption_location="inside-image" align="left" margin_bottom="10″ src="http://www.australianblading.com/wp-content/uploads/2014/10/IMG_0187.jpg"][mk_fancy_title tag_name="h2″ style="true" color="#393836″ size="24″ font_weight="bold" letter_spacing="0″ margin_top="0″ margin_bottom="25″ font_family="none" align="left"]ARO 2014[/mk_fancy_title][vc_column_text disable_pattern="true" align="left" margin_bottom="0″]Melbourne Rollerblading's Rob Ham gives us the official review and wrap of this year's Australian Rollerblading Open 2014 at The Park in Geelong.
The Old Skool 30+ title was again won by an entrant who'd travelled from interstate, and George Sarantoulias certainly wasn't planning on bringing any gold back to his current home in Adelaide. There was a strong interstate attendance, with people travelling from ACT, NSW, QLD, SA TAS and WA, and by all reports the shuttle bus to the event from Fed Square in the city was a hoot.
Hayden Golder turned 30 on the day of the event, qualifying him to enter the Old Skool 30+. He also entered in Vert, Mega, and made the finals in the Open Street too. His buddy Brad Watson medalled in Vert, Mega and Old Skool.
The wildest vert ramp in the country played host to Brad and Hayden putting on a show they've been working on, with the creative lines it was built for. Also world vert legend Shane Yost turned up "just to watch", only to strap on the boots, put on a show of his own and took 1st.
The first ever ARO mega ramp style event did not disappoint. Brad hit the roof above the quarter, and Canberra's Tristan Richards had big plans of his own to put his gymnastics influence to good use. He was lacing tricks in his heat more easily than he expected and was seen pulling a handwritten shopping list of tricks from his pocket, to decide what to try next. His double misty in the final will go down in Australian rollerblading history.
Junior Girl entrant Alana Boots, skated the Street, Vert and Mega events, and Tiffany Street showed us what's up and held on to her women's title.[/vc_column_text][vc_video title="OFFICIAL ARO EDIT BY MITCHELL MACRAE" link="https://www.youtube.com/watch?v=UEivtYfB5JQ"][vc_column_text disable_pattern="true" align="left" margin_bottom="0″]Last year's Open Street winner, Martin Gade, changed his flights home from an extended vacation in Europe to arrive home just in time to find himself on the podium again. Also within a week of the contest, NZ's Tom Scofield moved to Melbourne and the new guy took 2nd place.
Rhys Bell is no stranger to skating in the finals of the Aussie Titles; he's been killing it since he was in the U16s in 2005. 2014 turned out to be his year, finally becoming Australian Champion.
Massive thanks to Rosie at The Park – Geelong Indoor Skate Park and her helpful staff, chef Ben Mccoll on BBQ duty, Andrew Munro with BBQ and banners, Jean-Claude White and Danny Hawkins on coping box duties, Paul Kreutzer on bus organising duty, MC Josh on microphone duty, Nat Rawlings, Danny Hawkins, and Trent Phillips on judging duties, other people that helped out on the day including Daniel Talbot, Jenny Logue, Brad Watson, Chris Pullar, Mitch Macrae for filming and editing the official edit, and all others that released an edit or shared photos online, and especially Rob Ham and Simon Kelly from Rolling Victoria for putting the whole event together.
Also those that sponsored the event including Razors Australia, The Probate Professionals, 4Sqair Wheels, Bayside Blades Skates, Velvet Couch Clothing, Rollup, rollerblading.com.au. Melbourne Rollerblading, and Little Creatures Brewery. Without their contribution things like this can't happen. Support your supporters![/vc_column_text][vc_video title="ARO 2014 Edit by Daniel Talbot" link="https://www.youtube.com/watch?v=YkaDAT6PROw"][mk_fancy_title tag_name="h2″ style="true" color="#393836″ size="14″ font_weight="bold" letter_spacing="0″ margin_top="0″ margin_bottom="20″ font_family="none" align="left"]AUSTRALIAN ROLLERBLADING OPEN 2014 RESULTS: OPEN STREET, VERT & MINI MEGA[/mk_fancy_title][vc_column_text disable_pattern="true" align="left" margin_bottom="0″]Opens Street
1st: Rhys Bell
2nd: Tom Scofield
3rd: Martin Gade
Vert
1st: Shane Yost
2nd: Brad Watson
3rd: Hayden Golder
Mini Mega
1st: Tristan Richards
2nd: Brad Watson
3rd: Rhys Bell[/vc_column_text][vc_video title="ARO 2014 Edit by Iain Smith" link="http://www.youtube.com/watch?v=NyLXFADC038″][mk_fancy_title tag_name="h2″ style="true" color="#393836″ size="14″ font_weight="bold" letter_spacing="0″ margin_top="0″ margin_bottom="20″ font_family="none" align="left"]AUSTRALIAN ROLLERBLADING OPEN 2014 RESULTS: GIRLS, OLD SCHOOL & JUNIORS[/mk_fancy_title][vc_column_text disable_pattern="true" align="left" margin_bottom="0″]Girls Street
1st: Tiffany street
2nd: Jenny Logue
Junior Girls Winner: Alana boots
Old Skool
1st: George Sarantoulious
2nd: Chris Pullar
3rd: Brad Watson
Under 18s Street
1st: Darcy Smith
2nd: John Jacob
3rd: Daniel Werry
Under 14s Street
1st: Nick Thorne[/vc_column_text][mk_image_slideshow title="ARO 2014 PHOTOS BY CRAIG RICHARDS" images="7907,7905,7904,7903,7902,7901,7900,7899,7898,7897,7896,7895,7894,7893,7892,7890,7889,7888,7887,7886,7885,7884,7883,7882,7879,7878,7877,7876,7875,7874,7873,7872,7871,7870,7869,7868,7867,7866,7865,7862,7861,7859,7858,7857,7856,7855,7853,7852,7851,7849,7848,7847,7846,7845,7844,7843,7842,7841,7840,7839,7838,7837,7836,7835,7834,7833,7832,7831,7830,7829,7828,7827,7826,7825,7823,7822,7821,7820,7819″ image_width="800″ image_height="550″ effect="fade" animation_speed="700″ slideshow_speed="7000″ pause_on_hover="false" smooth_height="true" direction_nav="true"][vc_video title="ARO 2014 Edit by Alice McTaggart" link="http://www.youtube.com/watch?v=lL_ZD6ThXf4″][/vc_column][/vc_row]