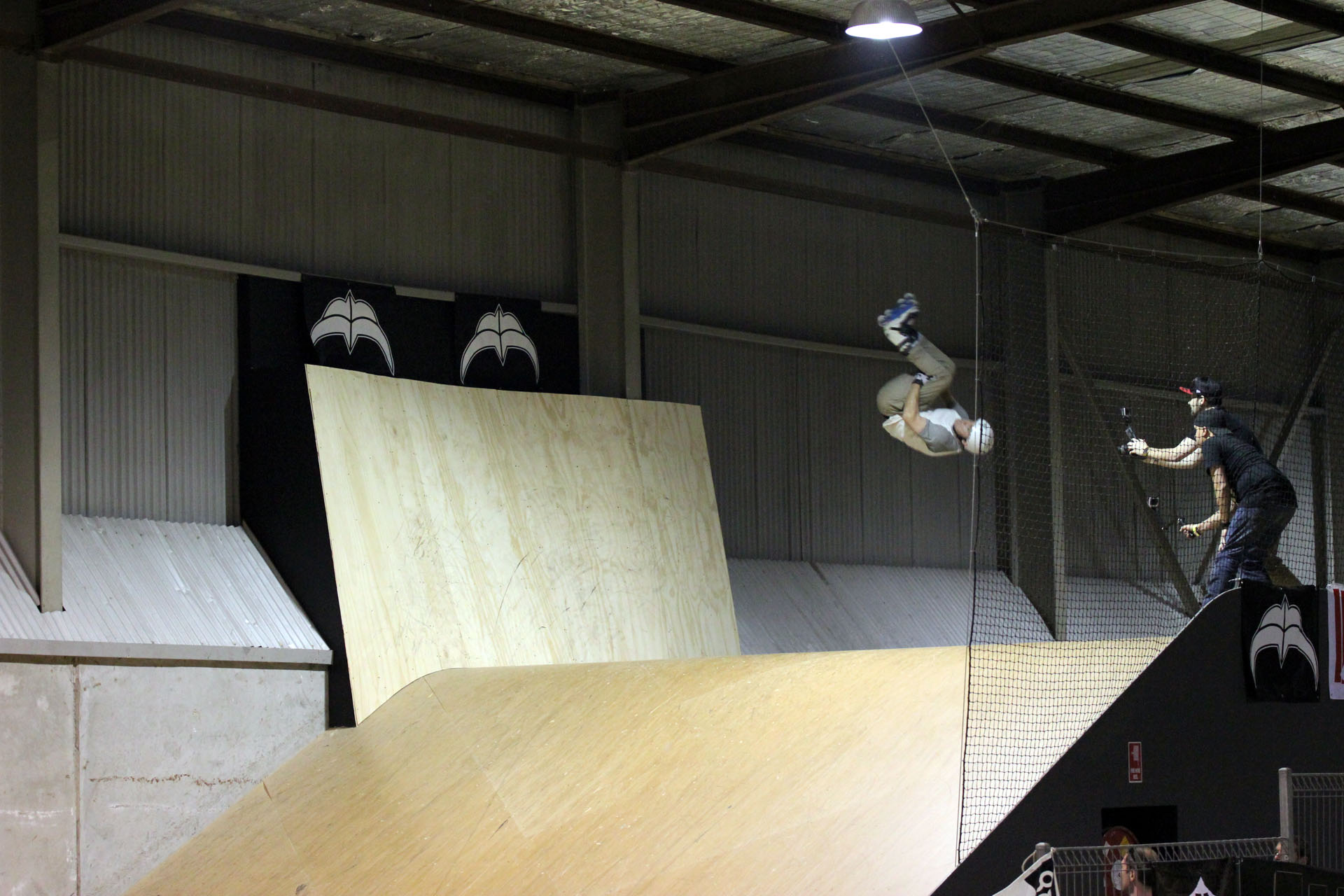 [vc_row][vc_column width="1/1″][mk_image src="http://www.australianblading.com/wp-content/uploads/2014/10/IMG_0627.jpg" image_width="800″ image_height="450″ crop="true" lightbox="false" frame_style="simple" target="_self" caption_location="inside-image" align="left" margin_bottom="25″][vc_column_text disable_pattern="true" align="left" margin_bottom="0″]Of all the hammers at this year's Australian Rollerblading Open at The Park in Geelong, it was hard to go past Tristan Richards' epic double misty flip for the most spectacular trick of the day.
The Canberra native had been training hard in the lead up to the event and it showed when it counted, with the lofty double misty sealing his win in the first ever Australian Mini-Megaramp competition, following a huge double backflip earlier in the runs.
Iain Smith caught the mini-megaramp competition in all its glory, including the winning trick in all its suicidal glory. Big ups to Tristan for putting his body on the line for the sake of ARO glory, you definitely deserved the win. Nitro Circus anyone?
ARO 2014 Mini Mega results:
1st: Tristan Richards
2nd: Brad Watson
3rd: Rhys Bell
Video by Iain Smith. For more from Tristan Richards, see the Canthrax website.[/vc_column_text][vc_video title="Tristan Richards – Double Misty Flip in the Mini Mega competition at ARO 2014″ link="http://www.youtube.com/watch?v=CkABHYt_kgg"][/vc_column][/vc_row]